Madrid, February 02, 2012  NEWS BOLETIN FIAPBT & IADCRO Madrid 02 de Febrero de 2012
                                                              http://www.villaliberty.org/newsboletin.html
Warning:
We have had certainty of which some people are using the information of some chapters or sections written by Mariano Peinado, which are pertaining to the FIAPBT, IADCRO and Villa Liberty kennels and appear modified in their content and so respect to the original chapter. The modifications deal with and incorrect deception, that to somebody for some reason it especially wishes will make to think that it was written by Mariano Peinado, without knowing whereupon aims. We think that this has been realised for own benefit, on the part of that person one or people who realised such manipulation with ill-disposed aims. It could be also, that looks for the loss of prestige of the author of these chapters or sections, or both things, we not know it either surely.
In anyone of the cases clarifying, that the diffusion of the information that we offer for us is very ok and therefore we authorized to all those that wish to spread our information, the one that are, to do that it, and we are very thankful for it, but as long as ill-disposed interests of by means do not exist and that the diffusion of the chapters is as it is in the original one without modifications, with the intention to inform suitably into formal and serious way about the breed dog American Pit Bull Terrier, the defense of the criminalized breed dogs like dangerous breeds etc. etc.
Therefore, if you have doubt we recommended to verify  that information that does not have you directly the security of which or it has not been manipulated, with the information that appears in the Web sites of the FIAPBT, IADCRO and Villa Liberty kennels, since from these Web sites YES is guaranteed the non manipulation of the content of the information of the chapters, articles or sections that can find in their interior of each of this Web sites.
We are sorry for the disadvantages that it can cause to you, but we think that is advisable to clarified it in honor to the truth.  THANK YOU TO ALL by the understanding.
INFORMATION 2  SUBJECT ABOUT BSL & LAW PPP
INFORMATION that the responsible owners should know, for to know defending adequately to his doggies.  
http://www.iadcro.com/iadcroinformation.html
* IADCRO & FIAPBT requirement to the USA Government
* IADCRO & FIAPBT requirement to Waterbury City (USA) Government  
THE ACTOR NICK SANTINO SUICIDED BY HIS PIT BULL
What can I do for to help against this INJUSTICE?: http://www.iadcro.com/iadcroinformation.html
ALERT IN NORTH CAROLINA & VENEZUELA Inside the Link, you can see the information first in English and after the same information in Spanish.
Spanish
ÚLTIMO VERGONZOSO PROGRAMA DE TV, HABLANDO DE PERROS Y DE LAS MAL CATALOGADAS RAZAS PPP & PRECAUCIÓN con las CAMPAÑAS DE RECOGIDAS DE FIRMAS
Mariano Peinado IADCRO & FIAPBT against the BSL.
    <![if !vml]>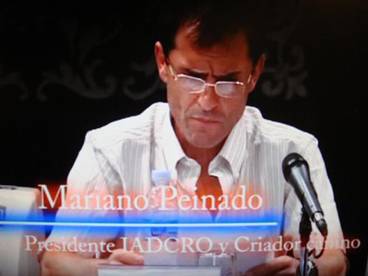 <![endif]>

VIDEO: http://www.youtube.com/watch?v=3Rf9NtQg7-M&feature=channel
@ INTERVIEWS TO MARIANO PEINADO:
    <![if !vml]>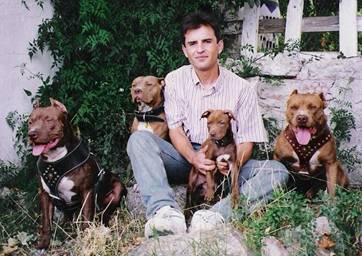 <![endif]>
1) Interview for the newspaper ABC Spain
2) Interview Radio 5 TODO NOTICIAS from National Radio from Spain. 2009, 25 February. http://www.youtube.com/watch?v=2G8x69Yh1I8&feature=channel
3) Interwiew from Mr. Daniel Ricardo Hernández, newspaper journalist of "El Universal de Caracas", from Venezuela, to Mr. Mariano Peinado the
   IADCRO & FIAPBT President, on the occasion by IADCRO & FIAPBT request given to the President Chávez to countermand the Law just approved.     
   Madrid, 2010, 12 January.      http://www.iadcro.com/entrevista.html
4) Interwiew does the May 23, by the COPE Radio: http://www.cope.es/barcelona-audios-alternativa-23-05-10-102830 Una vez dentro del enlace, hacer doble
clic en la flecha con un espacio   de tiempo de dos segundos, para dar comienzo a la entrevista. Después de los 10 segundos de publicidad y si lo prefieren para
no tener que esperar, pueden situar el espaciador de la radio en el minuto 10 y 20 segundos, en donde comienza la entrevista de IADCRO.
5) Interwiew does the November 01, 2010 pby Juan Francisco Calle from www.doogweb.es  -- http://www.doogweb.es/2010/11/01/entrevista-con-mariano-peinado-presidente-de-iadcro
Original INTERVIEW: http://www.iadcro.com/entrevistamariano.html
@ Mortal statistics of attacks of dog to people
@ Why some people think that the APBT is a breed not recognized?.
@ FIAPBT RESCUE DEPARTAMENT WITH AMERICAN PIT BULL TERRIER.
@ "NEVILLE", THE AMERICAN PIT BULL TERRIER POLICE, ITS LIFE HISTORY AND VIDEO 
@ IADCRO & FIAPBT Department of Therapy attended physical and psychic handicappeds with AMERICAN PIT BULL TERRIER.
@ COMPLETE SEPARATION OF MARIANO PEINADO WITH SAME PROTECTOR OF WELCOME HOUSE.
Be careful with the SWINDLERS, distrust of them when they request money to you through Banking Account Numbers to help the animal need, all are not honest people.
@ IADCRO and you, fighting the BSL
@ EXAMPLE PROJECT FOR THOSE THAT WILL WISH DOING IT IN OTHER SUBJECTS<![if !supportNestedAnchors]><![endif]>
@ IADCRO METHOD. THE IMPORTANCE OF THE DIFFUSION TO SECURE TO MODIFY THE BSL
@ LAWS. PLOTS AGAINST THE A.P.B.T.
@ THE ETHOLOGY PROFESSIONALS SPEAK ABOUT THE "DANGEROUS" CANINE BREEDS.
@ The dogs are aggressive if they receive a bad education and not by its breed. Investigation in the University of Cordova by Mr. Joaquín Pérez-Guisado.
@ HOW CAN I HELP TO THE BREED DOGS?
@ S.O.S. AMERICAN PIT BULL TERRIER & Others Races in BSL. IADCRO
@ I´m a American Pit Bull Terrier.
@ VILLA LIBERTY´S RED GAME (See the GAME Blog)
@ IADCRO & FIAPBT, SOLIDARITY AND DEFENSE FOR ALL THE ANIMALS ALREADY
@ MY SPECIAL MESSAGE FOR THE CONSIDERATION OF THE PEOPLE THAT I HAVE ESTEEM, MY FAMILY AND FRIENDS.
@ EXPLANATION OF THE PROJECT "ALREADY I DO NOT BELIEVE IN THE TV" Web Site: "Already I do not believe in the TV"
@ "APBT HISTORY AND RIDDLES GAME"
@ Friend Web sites in Facebook that we looked for the same objective.
@ VIDEO 1: MY GUARDIAN ANGEL IS A PIT BULL VIDEO 2:  INNOCENTS  VIDEO 3:  MERRY CHRISTMAS